on tap
We specialize in our own small batch brews, featured beers made by friends, unique wines & classic cocktails.
HAPPIER HOURS: Monday—Friday, 3pm-6pm with $3 select brews | $4 wells | $5 house wines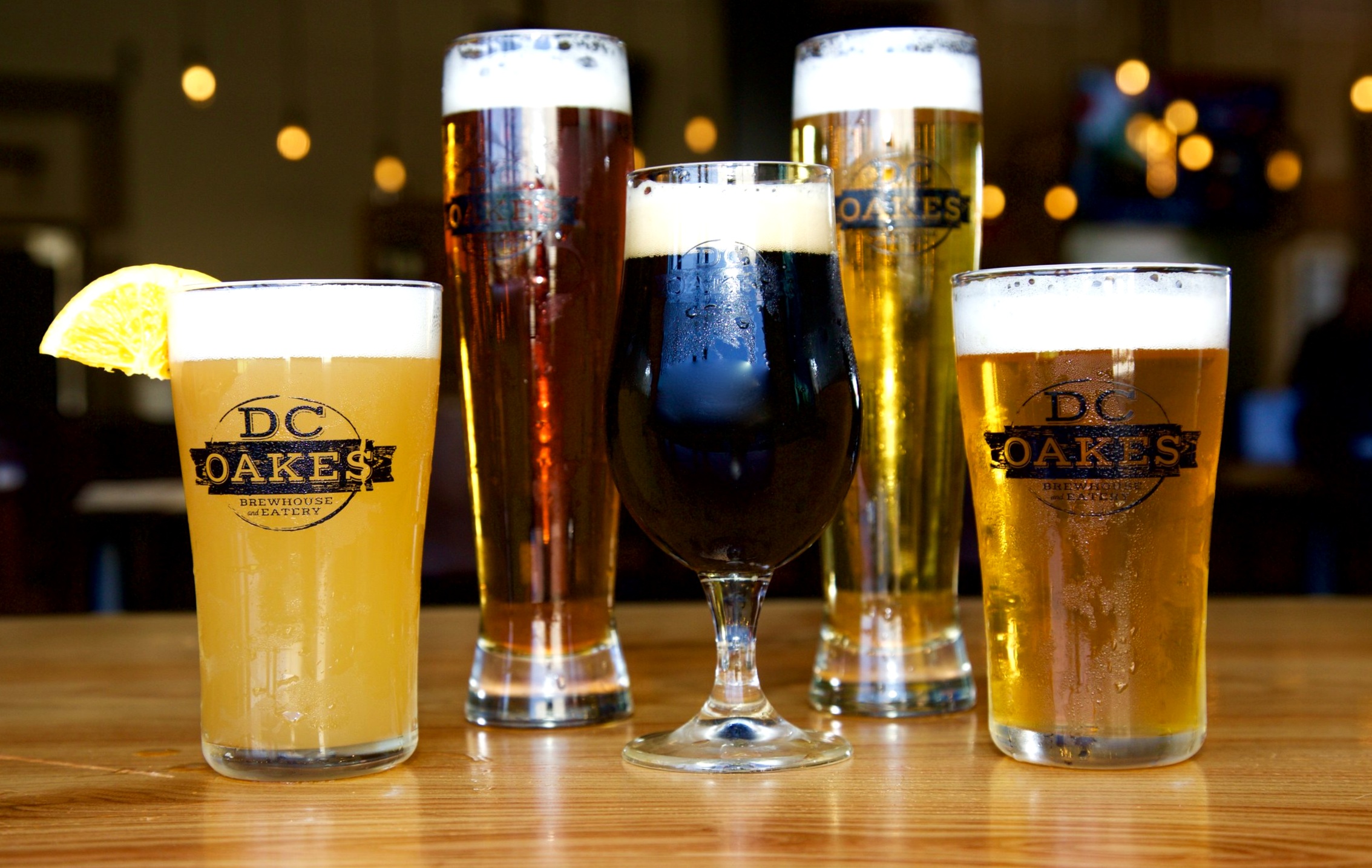 Known affectionately as "Our Brewer," TJ Compton is our chief craftsman in ales, master of barley and the big brains behind our DCO brews. With more awards won than kids' soccer games we've attended this year (over 23?!), we're humbly confident you'll love his beers.
India Pale Ale Cirtra and Amarillo hops 6.2% ABV 65 I.B.U.
Belgian Wit citrus, coriander, cardamon 5% ABV 15 I.B.U.
Coconut Almond Porter chocolate, coconut, almond, 5.5% ABV 28 I.B.U.
Belgian Dark Strong Zwei Collabeeration with Peritus coffee and Tanzanian coco nibs 10.4% ABV 28 I.B.U.
Lemongrass Lager Lemondrop hops with lemongrass 4.5% ABV 45I.B.U.
Recreational Use Lager Loral. Huell Melon hops, 6.7% ABV 50 I.B.U.
Pilsner traditionally crisp lager 5% ABV 40 I.B.U.
Belgian Strong Gold clove, bannana, lemon, pear 8.7% 45 I.B.U.
Maibock annual pale colored lager, malty, bready 7.2% ABV 25 I.B.U.
Copper Lager malty, smooth finish 5.5% ABV 45 I.B.U.
DC Oakes Brewhouse & Eatery features rotating taps from our fellow Colorado craft brewers and beyond. Visit us in person, and check out our Facebook & Instagram for updates on what we are serving!
Wine & Cocktails...yes please!
Maybe you're feeling like it's more of a Spicy Mule kind of afternoon, or maybe you just need a good glass of wine — either way, we've got you covered. Come in and try one of our original handcrafted cocktails or featured wines listed below.
COCKTAILS:
MADE WITH HOUSE SPIRITS
The Soccer Mom— skinny margarita w/ pomegranate & grapefruit
21 Hillside— Prairie Organic vodka, organic agave nectar, soda, lime
Grapefruit Splash- Western Son grapefruit vodka, sparkling white, lime wedge
Z-Thorn Smash- Western Son grapefruit vodak, soda, lime squeeze
Grapefruit Smash- New Age sparkling wine, Western Son grapefruit vodka, lime wedge
DC Ol' Fashioned—bourbon, bitters, orange, sugar
Strawberry Mojito-rum, muddled strawberry and mint, simple syrup
Summer Crush— vodka, elderflower, fresh lemon, cucumber, grapefruit juice, simple syrup
Spicy Mule— vodka, ginger, simple syrup, lime juice
Tincho- light sparkling wine with lime over ice
Bloody Mayory— Mayor Wade Troxell's cocktail collab classic
WINE:
AVAILABLE BY THE GLASS (G) & SELECT BOTTLES (B)
Select Wines on Happy Hour
WHITE WINE
Oak Grove Chardonnay
$6 G | $20 B
Michael David Chardonnay
$10 G | $33 B
Leaping Horse Pinot Grigio
$7 G | $24 B
Sean Minor Sauvignon Blanc
$8 G | $26 B
Kung Fu Girl Riesling
$9 G | $30 B
Crow Canyon White Zin
$6 G | $20 B
Chloe Rosé
$9 G | $32
Wente Chardonnay
$9 G | $32 B
Lunetta Prosecco
$9 1/2 Bottle
RED WINE
Oak Grove Cabernet
$6 G | $20 B
Freakshow Cabernet
$13 G | $43 B
Hidden Horse Red Blend
$8 G | $26 B
Velvet Devil Merlot
$9 G | $20 B
Rickshaw Pinot Noir
$10 G | $33 B
Rutherford Ranch Cabernet
$14 G | $45 B
Lander-Jenkins Cabernet
$9 G | $32
Pascual Toso Malbec
$ 10 G | $ 33 B
Georges Duboeuf Beaujolais
$9 G | $32 B
Jordan Cabernet (2013)
$120 B